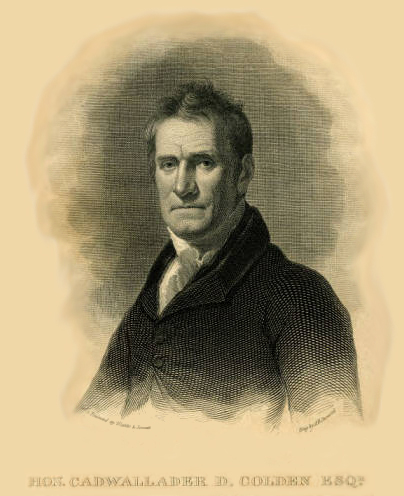 ---
MEMOIR
PREPARED
AT
THE REQUEST OF
A
COMMITTEE OF THE COMMON COUNCIL
OF
THE CITY OF NEW YORK,
AND
PRESENTED TO THE MAYOR OF THE CITY,
AT
THE CELEBRATION OF THE COMPLETION
OF THE
NEW YORK CANALS.
..........................................................
BY CADWALLADER D. COLDEN.
..........................................................
PRINTED BY ORDER OF THE CORPORATION OF NEW YORK,
BY W.A. DAVIS.
........
1825.
---
It was presented to the Mayor of the City, on board the steam-boat Washington, one of the fleet which accompanied the Canal boat to the ocean, on the fourth day of November, eighteen hundred and twenty-five.
When the aquatic procession had arrived at a point in the Atlantic, south of Long Island, the Governor poured water, brought by the Canal boat from the Lake, into the sea. Doctor Mitchill, also, performed some ceremonies, and delivered the address, which will be found in a subsequent part of this volume.
The Recorder of the City, and the Committee of the Common Council, then requested of Mr. Colden the Memoir he had prepared at their desire. In presenting it to the Mayor, Mr. Colden said, he had not been unambitious of the part assigned to him in the celebration, and wished he could have performed the duty more to his own satisfaction, and in a manner more deserving the honor of having his Memoir placed in the city archives.
That, in the Memoir, he had adverted to the circumstances of our country, previously to, and at the time the Canals were commenced, and had endeavoured to trace these great works to their origin, and in their progress to their consummation. That he had, also, attempted to anticipate their advantages and effects, not only in respect to our own State, but in regard to the Union.
That, since the Canals were projected, many subjects connected with them had arisen, which had excited great difference of opinion, and much feeling. These points, Mr. Colden said, he had, as far as possible, avoided; but, when he was obliged to notice them, he had endeavoured to divest himself of every kind of bias, and to observe the utmost impartiality and fidelity.
That he was, notwithstanding, fearful he might be subject to the charge of injustice, in having omitted to notice some persons, whose claims to be mentioned as friends, and supporters of the Canals, are equal to those of many whose names appear in the Memoir. Mr. Colden said, if there were such omissions they proceeded from want of information; and, when it was considered how little time was allowed for inquiry on this subject, he hoped they would be excuses; he trusted, also, he said, that the same consideration would entitle the Memoir to some share of that indulgence which, notwithstanding his best efforts, he was very conscious it would need.
---
---
http://www.eriecanal.org/texts/Colden/Colden.html