S U P P L E M E N T
TO THE
ANNUAL REPORT
OF THE
State Engineer and Surveyor
OF THE
STATE OF NEW YORK
For the Fiscal Year Ending September 30, 1905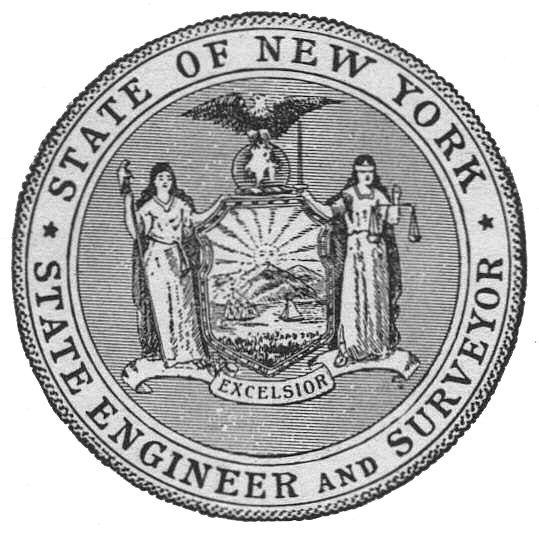 ---------------------------
TRANSMITTED TO THE LEGISLATURE MARCH 28, 1906
---------------------------
ALBANY
BRANDOW PRINTING COMPANY
1906
---
---
HISTORY
OF THE
CANAL SYSTEM
OF THE
STATE OF NEW YORK
TOGETHER WITH
BRIEF HISTORIES OF THE CANALS
OF THE
UNITED STATES AND CANADA
VOLUME I
---------------------------
BY NOBLE E. WHITFORD,
Resident Engineer, State Engineer's Department; Assoc. M. Am. Soc. C. E.
---------------------------
UNDER AUTHORITY OF HENRY A. VAN ALSTYNE,
STATE ENGINEER AND SURVEYOR
---
---
Acknowledgements are due to the following persons for assistance and suggestions in preparing this volume: to Major William L. Sibert for reviewing the map of United States and Canadian canals and rivers; to Dr. E. L. Corthell for reviewing this map, together with the text describing these canals; to Mr. E. Kuichling for reviewing the chapter on the canal as an engineering school; to David E. Whitford, W. H. H. Gere, Howard Soule, J. Nelson Tubbs, and John R. Kaley for information concerning events that have occurred during their long careers on the canals, especially to Mr. Whitford, to whom much of the historical manuscript was referred for corrections; to those mentioned in the introduction to the sketches of United States and Canadian canals, for furnishing material for that compilation, to Thomas C. Keefer for a paper on Canadian canals, and to O. P. Austin for permission to reprint a portion of a Government document; to William G. Shaible for supplying information obtainable from the State Comptroller's office; to various members of the State Engineer's department for assistance in compiling the historical, statistical and biographical data and for whatever help or information was at their command; to Miss Minnie M. Beal for the canal bibliography; and to many of the State Library corps for their unfailing courtesy and aid, without which this work could not have been successfully accomplished.
---
Note: Errata have been incorporated into the text. To see the original list of errata, go to the Errata page.
---
---
[Note: Original scan and HTML prepared by students at the University of Rochester;
Additional corrections, illustrations, maps, and footnotes added (as endnotes) by Bill Carr 10/15/00]
[Last edited 11/26/12 by Frank E. Sadowski Jr.]
http://www.eriecanal.org/Texts/Whitford/1906/front.html